Is Your Dye to Die for?
Posted by Lynn Applegate on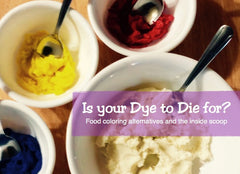 Not all food colorings are created equal! Many of the food dyes on the market are excitotoxins and create a lot of problems for hyperactive children and can actually enhance anger issues and depressive tendencies. Some are even linked to cancer.
When my kids were younger, I had no idea how much the dyes in our food were affecting their attitudes. Once I learned about dyes and their side effects, I began to watch my kids and how they acted after having something with large amounts of color. WOW! That was an eye opener! One of my sons was so sensative to them, that he turned into a monster about half an hour after having anything with red in it and had to sleep it off. There was no reasoning with him at that point. Needless to say, I started eliminating most colors and dyes from our diet and saw a huge improvement in my children.
For more info and alternatives click the links below.
Here is a link for an article about food coloring and its adverse side effects. Who would have thought that something that can be so detrimental to your health is so widly used.
http://hubpages.com/health/make-food-coloring
Here is an option to buy natural food coloring without excitotoxins
http://www.amazon.com/India-Tree-Natural-Decorating-3-Count/dp/B001EQ5BXA
Here is a link to a great article on making your own food coloring
http://www.care2.com/greenliving/8-ways-to-make-organic-diy-food-coloring.html/1
---
Share this post
---
---