Mullein Tea
Posted by Lynn Applegate on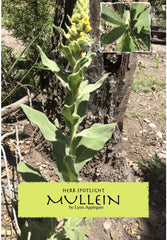 "When I was growing up my family went camping a lot. Back then my dad (Dr. James) was just starting out and would forage for some of the herbs needed for his clients. I remember helping to gather them with him but the one I remember the most is mullein. Probably because of the stories and cautions attached to learning the art of gathering it. Dad told us that if  we were ever in the forest and need toilet paper that we didn't want to use mullein unless we knew which way to wipe. Mullein, you see, appears to be soft at first glance but actually can make you itchy like insulation if not handled cautiously." L.A. New Mexico
It's uses range from asthma to colds ,allergies, bronchitis, hemorrhaging, pain relief, coughs, etc.
How My Mom Made Mullein Tea
For fresh mullein boil water, with the leaves in it, and

 

then turn it down and simmer for 10 minutes.
For dry Mullein bring to a boil, put a lid on it, turn it off and let it sit for 15-20 minutes.

Then strain it and add honey.
It helped my mom feel better fast and she said it didn't taste to bad either.
It has been many decades since those days and now life is so busy that I solve my allergy issues with things I can carry with me. One of my favorites is Dr James' ANTI SPAZ. It has mullein in it and works fast on asthma, allergies and other respiratory issues.
---
Share this post
---
---