Brown Rice Stuffing
Posted by Lynn Applegate on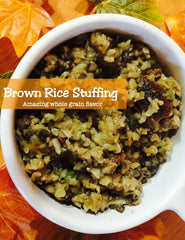 "When I was young I remember walking in to the kitchen on Thanksgiving Day while my mom was stuffing the turkey. I had never seen this done before, so I was devastated that she would ruin something that I wanted to eat by stuffing it in a turkey's bottom." -E. Nielson
What is the difference between stuffing and dressing?
Stuffing is stuffed in the turkey and cooked with the turkey. It absorbs a lot of yummy flavor from the turkey this way.
Dressing is made outside of the turkey, usually baked in a pan and the drippings from the turkey can be added to add the flavor as if it had been cooked in the turkey.
Ingredients:
1 cup milk or broth
1 cup soft bread crumbs
1 onion, chopped
1/2 lb. mushrooms, chopped
1/4 cup fat (coconut oil or butter)
4 cups cooked brown rice
1 tsp sage
1 tsp oregano
1 tbsp parsley, dried
1/4 tsp thyme
1 tsp salt
1/8 tsp pepper
Instructions:
Pour milk or broth over crumbs and set aside.
Sauté onion, celery and mushrooms in butter or fat until browned, then add seasonings and cook two more minutes.
Add rice and soaked crumbs. Stir well, cook until hot and serve. Makes 6 cups.
Pack in pan and bake, covered, at 350°F. For 30 minutes. OR in the turkey. ;-)
---
Share this post
---
---