Butter Cream Frosting
Posted by Lynn Applegate on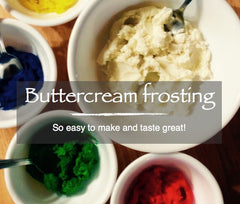 My family loves to decorate cookies! We like the frosting to be beautiful but not taste nasty to the point that everyone scrapes the frosting off to eat the cookie. This is a delicious frosting recipe for any occasion!
Ingredients:
1/2 cup butter, softened
4 1/2 cups unbleached powdered sugar
1 1/2 tsp vanilla extract
5 to 6 Tbsp milk
Directions:
In a large bowl, beat butter until creamy. Beat in the unbleached powdered sugar, vanilla and enough milk to achieve desired consistency. Add color, if desired Yield: About 3 cups.
If you liked this article subscribe to our monthly E-magazine:
---
Share this post
---
---