Nut Brittle (without corn syrup)
Posted by Lynn Applegate on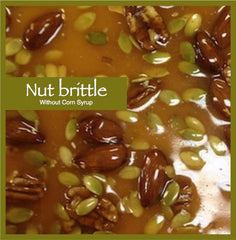 This recipe tastes amazing and is pretty easy to make!
Ingredients
2 cups sugar
1 cup honey
1 cup water
2 cups nuts (We like a mixture, almonds, pecans, and pumpkin seeds)
1 tbsp butter
Instructions:
Put sugar, honey, and water in saucepan. Stir until sugar is dissolved. Cook to 300º. Remove from heat. Add butter and nuts. Stir just enough to mix thoroughly. Pour into very thin sheets on a well-greased platter. Let cool. Break into pieces and serve.
---
Share this post
---
---