Strawberry Lemonade
Posted by Jim Applegate on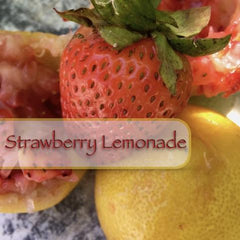 There's nothing like a cold drink on a hot day! Your family will love this lemonade with strawberries to make it pink and flavorful. I love that I know exactly what is in it and what isn't. No dies!
Ingredients:
4 strawberries (I prefer fresh but frozen works also)
2 large lemons
2/3 cups sugar ( I prefer raw sugar)
1 pinch salt (secret ingredient)
1 gallon water
Instructions:
Blender Method: Remove tops from strawberries and peels from lemons and place in blender with sugar, salt and some of the water. Blend until smooth. add to the rest of the water, stir and enjoy.
Hand Method: We were camping when I last made this recipe so I had to improvise. At home I would have used my blender for the strawberries but while camping I just used my handy lemon juicer. First I cut the lemons in half and juiced them then I simply took the green tops off the strawberries and put one in the juicer and squeezed over a cup or pitcher. Then I scraped the strawberry pulp out into an empty lemon peel and placed it back in the juicer and squeezed again. Repeat with all strawberries discarding pulp when finished. Mix with all other ingredients and enjoy!
---
Share this post
---
---