How You Can Get Back Into Shape Without All Of The Pain
Posted by Jim Applegate on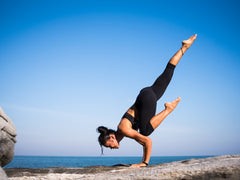 One of the main reasons that mothers do not want to get into shape is that being extremely sore is something that nobody looks forward to. Avoiding this sore feeling is possible if you have the correct exercise program. This will take you being proactive about taking care of your muscles. Failure to do this will lead to you being sore or overdoing it during your first few weeks leading to injury. The following are tactics that will help you avoid that sore feeling when getting back into shape after a long period of inactivity.
Slowly Ramp Up Your Workouts
The worst thing that you can do is exercise as hard as you can when first going back to the gym. In fact, it is probably wise to take it even easier than you think that you should. Rest days are important when you are starting to get back into shape as inflammation of muscles can lead to pain or even injury. You should try to do a few different methods of exercise so you don't overuse a specific muscle group. Your cardio can differ week to week with one week doing the stationary bike with the next being a swim workout.
Recovery Foods
There is a recovery window after you exercise where you need to refuel your muscles. Getting in a protein shake or amino acids into your system can help your muscles recover in an efficient manner. Take the time to research certain supplements that will aid in your recovery. Those people who have a healthy diet generally have a better chance at avoiding that sore feeling. Make sure that the foods are in line with the goals you have for getting into shape. Some people want to lose weight while others want to improve their physique.
Icing and Heating Muscles
You are going to need to be proactive about heating and icing your muscles. You know what problem areas that you have on your body but making sure your joints are healthy is important. Those with access to ice tubs should take full advantage as this can help reduce inflammation in the entire body. If you have tight muscles after a workout then heating them can help out. Before a workout you need to warm up to avoid sore muscles as well as injury.
Acupuncture
Acupuncture has been used for years for people wanting to recover quickly. The combination of massage and acupuncture that many professionals offer is perfect for a mother just trying to get back into shape. If you have a fear of needles you do not have to worry as you can barely feel a majority of the needles as they are inserted. Take the time to do research on those acupuncturists available in the area as the quality of your treatment is extremely important.
The above tips will help you avoid being extremely sore to the point of barely being able to move. Getting into shape is a process and not an overnight magic trick so do not injure yourself trying to do your max weight on your first day back in the gym.
Written by Natalie Bracco for Working Mother and legally licensed through the Matcha publisher network. Please direct all licensing questions to legal@getmatcha.com.
---
Share this post
---
---