Grandma Ella's Bread
Posted by Jim Applegate on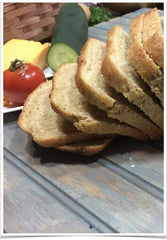 This basic bread recipe can be used for loaves, baguettes, pizza crust, cinnamon rolls or even pitas. It all depends on how you form your dough.
Ingredients:
2 Tbsp. instant yeast

5 cups whole wheat flour

6 tablespoons unrefined sugar

4 teaspoons salt
5 cups white* or whole wheat flour

4 cups water, lukewarm
butter or olive oil (to grease pan and bread tops)

Instructions: 
In a stand mixer mix 5 cups of the flour (set 5 cups aside), yeast, sugar and salt. Stir. Add water to dry ingredients and blend. Use the cookie blade for this part. The dough will be thin but blend until it is well mixed together. Next add 1 cup of flour at a time letting each cup you add get worked in before adding the next cup. When the dough gets thicker switch to the bread hook. Continue adding flour until the dough pulls away from the sides and cleans the sides of the bowl. Turn mixer off. Cover with a moist towel and place in a draft free place to rise until doubled.
When your dough has doubled in size, form into loaves or rolls, place in greased pans, and let them rise or 15 minutes while your
oven heats to 410o. Bake for 20 minutes for rolls and 30 minutes for loaves until golden brown. For amazing results butter the tops of your loaves and rolls when they come out of the oven and they will be soft and delicious.
*Note:
Using white flour in this step will make your bread more comparable to store-bought bread. Lighter and fluffier.
---
Share this post
---
---