Is Your Man Feeling Down?
Posted by Lynn Applegate on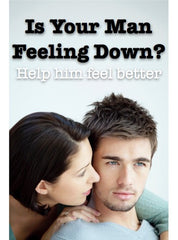 Does he complain of (or you have noticed he suffers from) any or all of the following symptoms:
• Moodiness
• Fatigue
• Insomnia
• Stress
• Muscle loss
• Trouble concentrating
• Less energy
• Muscle weakness
• Weight problems
• High blood pressure
• Weak sex drive
• No sex drive
• Difficulty performing
• Inability to perform
• Impotence
If so he may be experiencing a decrease in his testosterone, which is the "MAN"
hormone and is responsible for body hair, beards, deeper voice, sex drive, muscle
mass and strength. It can influence aggression, competitiveness and dominance and
even motivation. And let's face it ladies, when shown with love and affection, any of
those manly things can be downright sexy!
MAN UP is the answer!
MAN UP is a powerful formula designed to boost testosterone naturally.
To read what people are saying about it and for more info on why it works so well. Click
Do your man a favor and get him some today!
---
Share this post
---
---