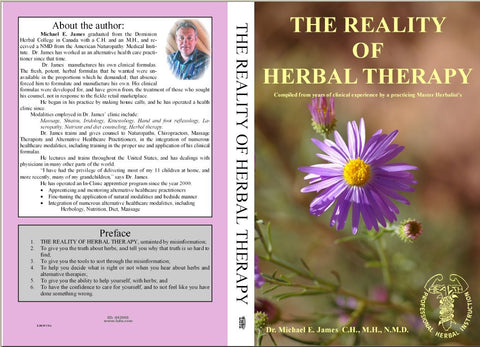 The Reality Of Herbal Therapy Paperback
This book will ship directly from the printer.  Please allow an extra 5 -10 days for delivery.

We convinced Dad to put some of his knowledge in this book. You will find his unique insights to health with his cut-to-the-chase approach. His candid opinion of the "other guys," are enlightening and at times humorous. Giving you confidence to tackle your own health. A few things Dad deals with are: How and Why Herbal Therapy Works; 4T Syndrome- are you a victim? Dispelling Myths about herbal therapy; Knowing the right ways to prepare herbs; Why herbs seem scary at times; Illnesses- over 130 listed; and a 10 page index listing over 300 subjects. Dad?s approach is based on the age old, time-tested approach to herbology and health. Namely, that illness occurs as a result of a weakened and/or malnourished tissue, or system condition. Health is a result of feeding, nourishing, and cleansing the body. Jessica J James (one of Dr. James's kid ) Other works: "A Physician Reference Herbal Index" Textbook for the American Naturopathic Medical Institute & "Cut to the chase"
---
We Also Recommend