Four Tasty-As-Heck Healthy Packed Lunch Ideas
Posted by Coach on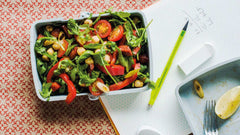 Taking your lunch with you? Skip the soggy bread and dry chicken and pack a meal that'll inspire envy, not sympathy
Sick of being at the mercy of what's left in the sandwich shop? It's a common malaise, but mercifully, there's a simple solution. "Packed lunches aren't just for kids any more, and getting them right is easier than you think," says nutritionist Michelle Lake, author of Packed. "It just requires a little forward planning. Throw out the boring bread and fill your lunch box with nutrient-packed foods that are simple to prepare, delicious, and will fuel your day."
Try the four recipes here, created by Lake and her collaborator Becky Alexander – and make sure there's enough left over to keep in the fridge.
Upgraded pot noodle
Add a tablespoon of brown miso, some grated ginger, half a finely chopped red chilli, 50g of dried brown rice noodles, a tablespoon of cashew nuts, some shredded cavolo nero or curly kale, a chopped spring onion and a handful of thin-sliced mushrooms to a heatproof pot. "Keep the jar chilled at work if you can, but remove it 30 minutes before you are ready to eat so that the pot comes to room temperature," says Lake. "When it's time to eat, pour boiling water to just cover all the ingredients, and quickly seal. Give the jar a good shake and leave for three to four minutes. Stir well and enjoy."
The benefit Brown rice noodles release their energy more slowly than white varieties and have a decent amount of the stress-busting mineral magnesium, while miso paste helps populate your gut with friendly bacteria. This recipe works with lots of fresh veg too – cram it in.
Heart-boosting burrito bowl
"Use black rice with this quick, Mexican-inspired lunch," says Lake. "It's a richer source of anthocyanins than blackberries and blueberries, and you can buy pouches ready-cooked." For the bowl, put 1/2 cup of kidney beans, half a sliced spring onion and some chopped red pepper, avocado and tomatoes in a bowl. In a separate bowl, mix chilli powder, olive oil and coriander, then pour it into the kidney bean mixture and stir well. Add sea salt to taste. Put it at one end of your container, rice at the other end and squeeze some lime over the whole thing.
The benefit Apart from the rice, you'll benefit from heart health: avocados are packed with heart-friendly monounsaturated fat, vitamin E, folic acid, vitamin B3 and potassium.
Immunity-boosting soup
No need to wait for winter: if you're training hard, your immune system can always use a top-up. Heat some coconut oil in a pan, then add a chopped red onion, 3 cups of chopped butternut squash, some chopped ginger, two chopped garlic cloves and cook until the onion is soft. Add a pinch of turmeric and cayenne, stir well and stir in 6 cups of vegetable stock and 1/2 cup of red lentils, then simmer for ten minutes. Finally, add a chopped yellow pepper and one red chilli, and stir in a can of coconut milk. "Blend it up for a smooth soup, or leave it chunky if you're in a hurry," says Lake. "You can freeze this for up to three months. It's delicious with a sprinkle of pumpkin seeds on top, so it's worth packing some in your lunchbox."
The benefit The ginger, garlic and chilli combine to give you a punchy anti-inflammatory boost and keep infections at bay.
Warm chorizo salad
There's nothing worse than a cold salad on a rainy afternoon – invest in a vacuum flask and you'll be able to enjoy this one warm. Roughly slice 2oz of chorizo, two spring onions and half a red pepper, then add them to a frying pan. "There's no need to add oil because the chorizo releases its own," says Lake. Cook for eight minutes, stirring often, then add a handful of halved cherry tomatoes and 1/4 cup of chickpeas, with plenty of black pepper. "Add rocket leaves, then seal it – they'll wilt slightly in the heat."
The benefit You'll get iron and bone-friendly manganese from the chickpeas, and also phytoestrogens that help to maintain a healthy hormonal balance.
Written by Coach for Coach and legally licensed through the Matcha publisher network. Please direct all licensing questions to legal@getmatcha.com.
---
Share this post
---
---