Five Quick, Healthy And Delicious Breakfast Wraps
Posted by Nick Harris-Fry on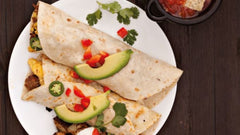 Start your morning with nutritious wraps that caught our eye on Instagram.
You've always been told that breakfast is the most important meal of the day. You know it's unskippable if you want to be productive at any point before lunch. However, you're a busy guy, you need to get to the office, get things done: merge, acquire, share stocks and stock shares.
Enter the breakfast wrap. A superb foodstuff not only because of the tasty and healthy things you can cram inside it, but also because it is eminently portable. Nothing says city slicker like holding a breakfast wrap in one hand while making high-powered deals on a cellular telephone with the other.
A varied wrapatoire is, therefore, a must – and what better place to seek inspiration for your wrap du jour than Instagram? The #breakfastwrap hashtag might be polluted with people inexplicably keen to show off their McDonald's breakfast wrap, but in between those pics are some nuggets of healthy brekkie gold. Here are five that caught our eye and will be sure to inspire you.
1. Eggs, Black Beans, Chorizo, Cheese And Avocado Burrito
This breakfast burrito from everyone's favourite quickfire chef Joe Wicks is a winner on all fronts. It has chorizo in it, so will automatically taste good, and the hit of protein and fibre from the beans, eggs and avocado definitely means you'll keep hunger locked up till lunch.
2. Mixed Greens, Eggs, Sun-Dried Tomatoes And Spicy Aioli Wrap
Spicy aioli is an ingredient everyone deserves to have a little more of in their life. Slather your wrap in the stuff before adding any other ingredients and it's sure to be a tasty treat.
3. Eggs, Peppers And Spinach Wrap
An easy way to ensure your wrap is colourful enough for Instagram is to use every colour of pepper. That's Instagram 101. Then add eggs and spinach for a healthy, and very simple, breakfast.
4. Avocado, Bacon, Lettuce And Tomato Crepes
A twist on the classic BLT here, with some avocado chucked in and the whole caboodle wrapped up in a couple of crepes.
5. Eggs, Pepper, Onion And Guacamole Wrap
Guac is good for any time of the day, so even just filling a wrap with the stuff is an option worth considering. However, for a more rounded breakfast, combining it with peppers, onions and eggs makes for a top-notch morning meal.
Breakfast Burrito
Why should you start your day with this nutrient-packed breakfast burrito? Let's take it ingredient by ingredient.
Eggs
Eggs are one of nature's best sources of protein, and one of the very few food sources of vitamin D, which your body needs to manufacture hormones including testosterone.
Avocado
Avocados are a top source of heart-helping monounsaturated fats and contain decent doses of vitamins C, E and K, as well as some B vitamins.
Black beans
Black beans are high in phosphorus, which plays an essential role in transporting energy into every cell in your body. They are also high in vitamin B9, which is needed to metabolise amino acids.
Red pepper
A pepper has three times more vitamin C than an orange, and you need this antioxidant to combat the cell-damaging free radicals created through exercise.
Tomato
They're high in the antioxidant lycopene, which research suggests can lower the risk of prostate cancer. Cooking them makes it easier for your gut to absorb.
Chicken And Avocado Breakfast Wrap
Ingredients
1 wholemeal tortilla wrap
½ chicken breast, grilled and sliced
½ avocado, sliced
Handful of cherry tomatoes, halved
Handful of black olives, halved
1tbsp basil, chopped 
To make
Layer all the ingredients evenly across the wrap.
Nutritional info: Calories 407, protein 33g, fat 32g, carbs 38g
Banana, Blueberry And Peanut Butter Breakfast Wrap
Ingredients
1 wholemeal tortilla wrap
2tbsp crunchy peanut butter
1 banana, sliced
Handful of blueberries
1tbsp honey
1tsp cinnamon
To make
Spread the peanut butter across the wrap.
Add the banana and blueberries. 
Drizzle the honey over the fruit and season it with the cinnamon.
Nutritional info: Calories 577, protein 14g, fat 18g, carbs 100g
Egg And Ham Breakfast Wrap
Ingredients
1 wholemeal tortilla wrap
3 eggs
75g ham hock, shredded
Handful of button mushrooms, halved
Handful of spinach leaves
Black pepper to taste
To make
Whisk the eggs and then fry them over a low heat, stirring throughout to scramble them, and then remove them from the pan.
Fry the mushrooms in the same pan, then add both to the wrap with the remaining ingredients.
Nutritional info: Calories 467, protein 39g, fat 22g, carbs 27g
Written by Nick Harris-Fry for Coach and legally licensed through the Matcha publisher network. Please direct all licensing questions to legal@getmatcha.com.
---
Share this post
---
---