Clean Eating is Green Eating
Posted by Tosca Reno on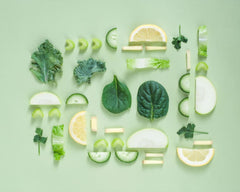 If one can rhyme shamelessly, let me try with a line I love: "Clean eating is green eating." But in a paradox of humanity where we say we should eat more greens, often we do not. How then can we get back to our ancestral ways of incorporating greens into our diet?
Learn To Love Greens Again
When pioneers landed on the shores of North America for the first time, life was challenging beyond what any of the adventurers had imagined for themselves as they tossed about on their Atlantic crossing from Europe. What confronted them, as they stumbled once again on dry land, was greenery. And plenty of it! Virgin forests, plants and botanical bounty not familiar to any of them. That scene has played out since the beginning of time for visitors landing in unfamiliar lands from as near as North America to the distant isolated poles. 
The next question was, "What is there to eat?" Certainly the abundance of green plants must have held hope, and it did, as among all that flora and fauna was their next meal.
And yet with the verdant abundance confronting them, the lessons of what was safe to eat had to be relearned – sometimes with dreadful consequences such as what might occur if the wrong mushroom was consumed. Other times, our kindly First Nations brothers and sisters taught us these crucial lessons. Thus, the pioneers put themselves to the task of eating wild watercress growing briskly by river banks, planting corn and squash, fertilizing the soil with fish and harvesting wild herbs, garlic and onions.
Today, our ability to consume green fare is limited only by our lack of curiosity, addiction or predilection to processed foods and, sometimes, the lack of geographical access to fresh produce. In fact, Americans spend more on bank overdraft fees than buying produce every year! As for proximity to greens, I once held a seminar amongst First Nations people in Northern Ontario and was shocked to discover how little fresh, green fare they consumed despite the boundless stretches of land and water before my eyes and innumerable patches of wild asparagus underfoot. How were these nutritional powerhouses missed?
It's Our Duty to Eat More Plants
It is my deeply seated belief that we have a duty; yes, a duty, to consume more plant matter. I don't just mean a lunch salad or lettuce, tomato and pickle on a burger, but a sautéed spinach breakfast topped with poached eggs. And for dinner, why not try my invention, the Greens Hash? The latter came to me when I was in a dinner pinch and had armloads of green leafy vegetables including rapini, spinach, kale, chard, broccoli and a fistful of garlic, mushrooms and onions. I couldn't face another plate full of steamed broccoli, as much as I love the vitamin C-rich vegetable. I coarsely chopped the greens, tossed them into a Dutch oven laced with coconut oil and fresh veggies and created a rich, green medley for dinner. It quickly became a family favorite.
That is how greens ought to be consumed – in wild abandon, daily, even numerous times a day and for the love of good health! In the days leading up to summer, gardens promise the reappearance of greens not seen for months. As an avid gardener, I give much thought to the seeds I plant, which will then transform into the meals I eat over the coming months.
I garden first for my soul, but secondly out of a sense of duty. After busy days of giving to others, I must decompress and give part of my soul back to the dirt. My mother would laugh at this sentence, chiding me with the question of "Why do you love to play in the dirt so much?" I would tell her, "I love the dirt, I need to be there." It's true, but the other reason is a desire to create a soil and garden environment that's free from what has become the norm in today's produce-growing machine. I keep pests at bay by conditioning the soil with either volcanic ash, wood ash, leaf mold or peat moss, planting what grows best in my locale and companion planting so that the bitter-smelling marigolds parked next to the tender greens will prevent pests from nibbling at the salad bar.
Finally, I garden – growing an abundance of greens and other produce – because I am mindful of our future. Elizabeth Kolbert, environmental writer for The New Yorker, writes in her book The Sixth Extinction (Henry Holt and Co., 2014) a historical account on the evolution of our planet and species, of how little humankind is willing to change to preserve species other than themselves. Her book compels me to do better. Kolbert makes me want to take up the fight to preserve something living, green, viable and beautiful, even if only in my half-acre patch of dirt. I must have some sense of control, of stepping up if I am to serve up a message worth leaving to my children and theirs, that I care about my planet, my species and my legacy.
Ultimately, I have to eat, therefore how I eat makes a difference. My conscience demands that I eat responsibly, thus I do, and isn't it wonderful that clean eating is also green eating?
I encourage you to plant herbs such as the Italian holy grail of oregano, basil and rosemary. Adding these to your summer cooking is but a small change with a big payoff as far as flavor and cost go. If you don't want to plant herbs, buy potted herbs and park tubs of them outside your kitchen door where you can readily snip leaves and stems for use in soups, stews, dips and even salads. I love dark purple basil leaves scattered amongst butter lettuce leaves and slivers of chive (don't forget the flowers!) and laced over a summer tomato soup. 
For ages, I thought growing salad greens past the month of June was out of the question. In the dead of summer, most lettuces bolt and go to seed, as had been my previous experience. I then discovered hard-wearing and delicious greens such as patience dock, golden purslane, perpetual spinach, garden sorrel, lamb's-quarters and vegetable amaranth. All of these greens are worthy of a spot in your garden, your dinner plate and your nutritional arsenal. It's easy to forget that most greens contain an abundance of phytonutrients, vitamins, minerals and even fatty acids that are musts for your wellness arsenal. 
If you are simply surfing farmers' markets, get adventurous and try greens you might not otherwise. I enjoy mustard greens for their hardy and mild, mustardy flavor, and New Zealand spinach. These are both thicker than regular spinach but will stand up beautifully in a salad on a hot summer's day. Widen your greens' world by sampling Komatsuna, a Japanese leaf vegetable related to the turnip family, or Malabar spinach, which is not a spinach but tastes like mild beet greens. And don't throw out your beet or turnip greens either, both can be eaten fresh or sautéed! Dig into Tokyo Bekana, a version of Chinese cabbage, Yukina Savoy, a mustard green and another member of the Chinese cabbage family, or Mizuna, another mustard green with bitter, tangy and peppery notes. Remember that bitter flavors in plants are a sign that they're densely packed with antioxidants – these are the plant's own defenses against pests and disease – but when we as humans eat them, we benefit from their phytonutrient action.
Now is the time to eat more greens, become healthy and vibrant once again and eschew processed foods to improve daily health. Head to the produce section of your grocery store or to your garden and come home with an abundance of plant material for your next meal.
Written by Tosca Reno for Clean Eating Magazine and legally licensed through the Matcha publisher network. Please direct all licensing questions to legal@getmatcha.com.
---
Share this post
---
---