Chocolate Zucchini Cake
Posted by Lynn Applegate on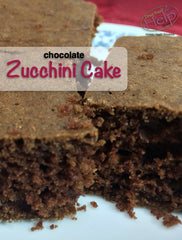 Submitted by: L. James 
Ingredients:
Wet
2 cups zucchini fresh, grated
3 eggs
1 cup butter or coconut oil (softened)
1 tsp vanilla
2 cups sugar
1/2 cup baking cocoa
Dry
3 cups flour
1 tsp salt
1 tsp cinnamon
1 tsp baking soda
1/2 tsp baking powder
1/2 cup chopped nuts (optional)
per-heat oven 325º
Wash the zucchini and cut off the ends, then grate it
Wet Add the first 6 ingredients, mix well.
Dry In another bowl mix together the rest of the ingredients.
Combine wet and dry ingredients and mix well.
Oil the bottom and all 4 sides of the cake pan.
Place about an 1/8 of a cup of flour in the bottom of the oiled cake pan and shake it util the bottom and the sides are all coated with flour. Dump out the excess flour.
Pour the cake mixture in  the cake pan. Spread as evenly as you can.
bake about 30-40 minutes at 350º
---
Share this post
---
---