How to Make Baby Food & Why You Should!
Posted by Elese Nielson on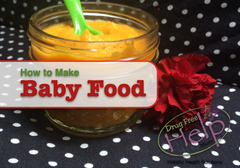 Why make your own baby food?
Have you ever read the labels on baby food?
So many of the top brands are loaded with unnecessary ingredients and some of those ingredients are addictive. You may ask why they would put addictive things in baby food. My answer is; Have you ever had your little one refuse to eat something home made that is every bit as good as the jar of baby food you feed them, and they refuse to eat it? The addictive additives (excitotoxins) actually make your child crave them and even go through withdrawals if they don't get more. Now who wants a cranky baby? Not I. So we continue to buy the stuff the kid prefers and the company making the baby food knows we will go back again and again. These additives can be hidden under the ingredients 'spices' and 'natural flavors'. Crazy isn't it?
Then there are the dies that are in them. They contribute to many childhood anger issues and health problems.
If this hasn't convinced you yet, then maybe the fact that making your own baby food saves money, will be your reason for trying it.
Sweet potato baby food
Ingredients:
1 Sweet potato
1 tsp Coconut oil
1 tbsp Honey
1/4 cup Water or to right consistency
pinch Salt
Makes approximately 1-1/2 cups or 6-4 oz canning jars.
Instructions:
Peel and cut sweet potatoes. Place them in a pan and add water util potatoes are covered. Then place over high heat. Bring to a rolling boil, turn down and simmer util tender (about 8 minutes). Strain water off potatoes and put into food processor or blender. Add the rest of the ingredients and blend until it becomes a smooth creamy paste.
I like to experiment making all kinds of baby food using any fruits or vegetables. I add coconut oil and honey for more nutrition and flavor. 
Tip: I like to use 4 oz. canning jars to store my baby food in, so I can take it on the go.
Yogurt Baby Food
To avoid excitotoxins in yogurt I use plain greek yogurt with honey, fruit preserves or agave to sweeten it.
---
Share this post
---
---