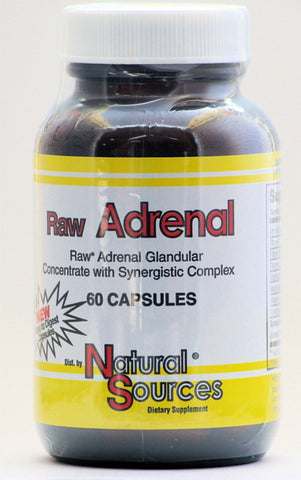 Raw Adrenal 60 capsules
INGREDIENTS: Vitamin A, Vitamin C, Thiamine, Riboflavin, Niacinamide, Vitamin B-6, Pantothenic Acid, Zinc, Adrenal Tissue, Spleen Tissue.
Other Ingredients: Magnesium Stearate, Maltodextrin.
Raw tissue concentrates imported from New Zeland are made from toxin-free lyphilized glands from animals grazed on rangeland free of pesticides, growth hormones, antibiotics or chemical additives.
This natural product is made without sugar,starch, preservatives, artificial colors or flavorings and contains no corn, wheat, yeast, soy or milk derivatives.
Whole Raw tissue concentrated from bovine sources specially processed (freeze-dried) at or below -5'C to preserve natural occurring vitamins, enzymes, nucleotides, lipoproteins and all other cellular components
---
We Also Recommend