Watermelon Juice or Agua Fresca
Posted by Jim Applegate on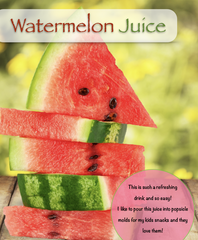 Ingredients:
Watermelon (cut into 2 inch cubes)
Water
Instructions:
Fill blender to max level with watermelon  cubes then add about 2 inches of water and blend until smooth. Enjoy!
Serving size: 2 cups
Ingredients:
1 cup watermelon, cut up
12 cups Water
1 cup Sugar (raw) or honey
Instructions:
Put 4 cups water in blender. Add fruit and sugar. Blend until smooth. In one gallon container, add 8 cups water and contents from blender and stir, add ice if desired.
---
Share this post
---
---