Feed a family for a week with a single bag of beans
Posted by Mary Kearl on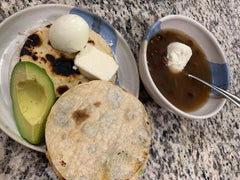 Beans are healthy—high in protein and fiber and packed with nutrients like iron, magnesium, calcium, phosphorus, potassium, and more. They're also an affordable and versatile way to feed your family—a one-pound bag of red kidney beans costs less than $2 and can make up to 11 servings. If you're a single adult or have a small family, that can add up to a lot of nutritious and delicious food for a low price.
But because even the healthiest of foods becomes a drag if you eat it the same way five days in a row, the key is to cook your beans in different ways. Stretch your bag of beans into unique meals with these three exciting recipes passed down from a traditional Salvadoran cook. You'll be able to build off of these dishes, and either enjoy them during the week or freeze them for later.
We produced 17 servings, which for our family of three translates to a total of more than five meals. Adding these recipes to your cooking repertoire is a great way to eat healthy on a budget.
The shopping list
Two cloves of garlic
A one-pound bag of red kidney beans
A large onion
A dozen eggs
8 ounces of cream cheese
Corn tortillas (how many will depend on your taste and hunger level)
Two avocados
A one-pound bag of white rice
8 ounces of queso fresco (or a more common cheese, like mozzarella or Monterey Jack)
Total cost: $18 (lower if you have some ingredients at home)
Cost per serving: $1.06
Based on these costs, these three recipes can help you prepare a high-value meal on a budget. Compared to what the average American household spends annually on food, if you cooked a bag of beans twice a month at $1.06 per meal, you could cover the main meals (breakfast, lunch, and dinner) of a family of three for 10 days. This would result in monthly savings of a little over $200.
Meal No. 1: sopa de frijoles (bean soup)
There are many ways to prepare beans. Frying is a popular option, but when you're starting from scratch, that involves a two-step process: cooking the beans, then frying them. If you're already cooking them, we've got great news for you: you've essentially just made sopa de frijoles, a popular soup in El Salvador.
Prep time: 5 minutes
Cook time: 1.5-2 hours (or until the beans are soft)
Ingredients
1 pound of red kidney beans (can be substituted with black beans, if preferred)
Two garlic cloves
1/4 of a large white onion
Table salt (to taste)
10 cups of water (to start)
(Optional) three or more eggs
Tools
Knife and cutting board
Tablespoons
Measuring cups
A large pot
A strainer
Directions
Rinse the beans with water and drain them with a strainer.
Cut off one-quarter of the onion and put it in a large pot. There's no need to slice it—it'll break apart later when you boil it. If you want a hint of onion flavor without actual chunks in your soup, you can infuse it by wrapping the onion in aluminum foil, and poking several holes with a thick needle or knife tip. Once the beans are fully cooked, you can take this out.
Peel the garlic cloves, cutting off the ends. Put them in the pot. As above, if you only want a hint of garlic, you can infuse the soup as with the onion.
Add the beans to the pot containing the onions and garlic, and pour in seven cups of water. Salt to taste and place it on your stove over high heat.
Once the water begins to boil (after about 5 minutes), lower the temperature to medium-high.
Add water as needed, just before the water level begins to drop below the top layer of beans. This isn't a dish you can set and leave—you'll want to keep an eye on your pot, making sure there's always some water inside and the beans never dry out. Expect to add at least 3 cups of water throughout the process. You don't want to find out what burned beans smell like.
After an hour and 20 minutes, when you have about 10 minutes left of cooking time, add those optional eggs to be hardboiled along with your beans. Put the eggs into your pot whole and let them cook.
To see whether the beans are ready, take a spoonful and give your dish a taste test. They should feel soft as you take your first bite.
Serve with: fresh avocado slices, a wedge of queso fresco, and tortillas (grilled for about a minute each in a frying pan)
Servings: six bowls of soup
Meal No. 2: frijoles fritos (refried beans)
Frijoles fritos are what makes a traditional Salvadoran breakfast, and are commonly accompanied by eggs (sunny-side-up or scrambled), Salvadoran sour cream (crema), queso duro or queso fresco (hard or fresh cheese), and French bread (pan frances), or homemade Salvadoran tortillas(which are thicker than the more widely available tortillas in the U.S.). In the recipe below, we've offered substitutes for when these traditional components of the meal are not available.
Prep time: 2 minutes
Cook time: 15 minutes
Ingredients
4 cups of bean soup (from Meal No. 1), broth included
3 tablespoons of vegetable oil
1 tablespoon of chopped onion
Tools
Knife and cutting board
Tablespoons
Blender
Large, deep frying pan
Directions
Heat the vegetable oil in the frying pan.
Chop the onion and place it in the pan. Cook on medium-high for about 1-2 minutes, until it's golden brown.
Remove the grilled onions from the pan and put them in the blender. Leave the oil in the frying pan to be used in a later step.
Add 4 cups of bean soup to the blender and puree until it's thoroughly mixed. For thicker refried beans, you can strain the soup's broth.
Using the oil you saved in Step 3, pour the mix into a deep skillet and fry it on medium-high heat.
As the beans begin to bubble, stir as necessary to prevent them from sticking to the pan. Once the bubbling is consistent, lower the heat to medium. Cook until the oil has mixed completely with the beans, which usually takes about 10 minutes.
Serve with: fresh avocado slices, eggs sunny-side-up or however you like them, a generous dollop of cream cheese, and grilled tortillas (fried in a pan for about a minute each)
Servings: six plates of refried beans
Meal No. 3: casamiento (rice and beans)
Casamiento, which literally means "marriage"—referring to the marriage of the beans and rice central to the recipe—is a traditional dish prepared in El Salvador and Central America. It's often served with eggs, cheese, and tortillas or French bread (pan frances) for breakfast, lunch, or dinner, or as a side dish served along with a heavier meal like carne asada (barbecue).
Prep time: 2 minutes
Cook time: 20 minutes
Ingredients
1/2 cup of rice
1 tablespoon of chopped tomatoes
1 tablespoon of chopped onion
2 tablespoons of vegetable oil
3/4 cups of water
1 1/2 cups of refried beans (from Meal No. 2)
Salt to taste
Tools
Knife and cutting board
Tablespoons
Measuring cups
Medium frying pan with lid
Large frying pan
Directions
Heat oil on medium-high for about 30 seconds, then mix in the chopped tomatoes and onion, and the half-cup of rice. Let it cook for a minute, stirring every 10 seconds.
Add in 3/4 cups of water and salt to taste, then lower the heat to medium. Place a lid on the pan and cook until all the water is absorbed by the rice, which takes about 10 to 15 minutes.
In a separate pan, reheat your refried beans for about 3 minutes. Once the beans are warm, add your cooked rice to the pan of refried beans, then mix together. Cook your rice and bean mix for about 2 minutes on medium heat.
Serve with: a dollop of cream cheese, a wedge of queso fresco, a portion of avocado, and grilled tortillas
Servings: five plates of casamiento
Now you know three different and frugal ways to prepare beans—and maybe you even picked up some Spanish culinary vocabulary along the way. Go practice your cooking, pile up your savings, and impress your friends and loved ones.
Written by Mary Kearl for Popular Science and legally licensed through the Matcha publisher network. Please direct all licensing questions to legal@getmatcha.com.
---
Share this post
---
---