5 Natural Skin Care Fixes for the Busy Woman
Posted by Emily Green on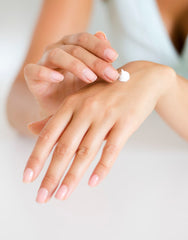 Busy women often don't have time to follow a strict beauty regime, but these home remedies offer a great quick fix.
Natural skin care and beauty products can help you to glow from within without spending hours in front of the bathroom mirror. Let these five natural skin cares fixes help you…
Cucumber water
You read right! Water is essential if you crave a clearer complexion. H2O helps to keep wrinkles at bay by providing skin cells with the fuel they need to repair themselves. The essential drink will also flush away impurities and toxins that can cause breakouts. Add cucumber to water for a healthy dose of nutrients and vitamins, and you'll glow like a goddess within no time at all.
Greek yogurt
Probiotic yogurts are already a staple on your shopping list. Now beauty brands are bringing the foodie trend to the natural skin care world. If you're stuck for cash, the good news is you can knock up a face mask at home using Greek yogurt, honey as an antiseptic, and bananas as a fantastic source of antioxidants. Mash them together and hey presto! Just remember to wash it off properly when you're done.
Floral cleansing water
Rose water and chamomile are big features in the natural skin care scene, thanks to their plumbing and replenishing properties. If you've skipped out on your water intake or simply want to give your skin an added boost, there's a natural solution. Add some rose petals to room temperature water and distill for a few hours before you wash up before bedtime. Your skin will love you for it!
Castor oil
Traditionally used to aid digestion, castor oil will make your hair grow thick and fast when applied topically. Many beauty gurus have smeared this natural product on their brows, to get "the look" without resorting to drastic measures. Give it a try!
Apple cider and baking powder
This powerful concoction isn't recommended for sensitive skin, but if you can tolerate the mixture, it will help to scrub away the most stubborn of blackheads. That's because apple cider helps to open pores and address toxicity levels, while baking powder acts as a natural exfoliant.
Do you have more natural skin care and home remedy tips? Let us know in the comments below!
Written by Emily Green for Working Mother and legally licensed through the Matcha publisher network. Please direct all licensing questions to legal@getmatcha.com.
---
Share this post
---
---