20 Ways You Can Self-Care Naturally
Posted by betternut-editor on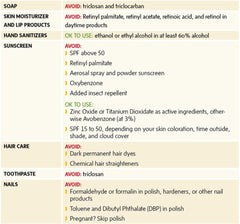 Isn't it about time you treated yourself to something wonderful-and potentially life-changing? Why not indulge in a rejuvenating at-home spa experience? The following 20 tips are designed to help you achieve a healthy glow with safe, nontoxic personal care products that can make you feel better about how you look-and about what you put on your body.
1 Toss the Toxic Stuff
Many of those unpronounceable chemicals found in everyday personal care products have been linked with health issues, including hormone disruption and cancer. Here's a quick guide to safe and not-so-safe ingredients:
2 Go Sugar-Free
According to Kat James, author of The Truth About Beauty and founder of Total Transformation Program, as we age, we are subject not only to free-radical damage, but also a process called glycation, which is essentially a slow "cooking" of proteins throughout the body, accelerated by rises in blood sugar. Eating a diet high in sugar spurs this process-and speeds the aging process. Regaining cellular sensitivity to insulin by reducing blood sugar spikes can be correlated with just about every aspect of healthy aging. "I have seen the greatest payoff in terms of health and beauty by reducing sugar intake from all sources," says James.
3 Eat for Beautiful Skin
Rachel Pontillo, author of Love Your Skin, Love Yourself and the blog Holistically Haute, adds gluten and dairy to the list of skin-harming foods. "They are known culprits for skin conditions such as acne, eczema, rosacea, psoriasis, keratosis pilaris, melasma, seborrhea, and others," Pontillo says. The best foods for luminous, younger-looking skin? Pontillo recommends healthy fats, greens, brightly colored fruits and veggies, fermented foods, and protein.
4 Love Your Nails
Your nails are an indicator of your inner health. Hangnails, white spots, and peeling nails can point to low levels of key vitamins and minerals. Some nutrients can also strengthen nails, most notably biotin. This little-known B vitamin thickens nails and encourages healthy growth. While the recommended dose is a mere 30 mcg daily, most studies use considerably more-up to 10,000 mcg daily.
5 Don't Forget Collagen
Aging and sun exposure cause a breakdown of collagen, which leads to thinner skin that makes undereye pigment and blood vessels more visible. Eye creams or pads that contain collagen can help firm and strengthen undereye skin to minimize the appearance of dark circles and reduce puffiness. You'll also find collagen in supplements, including tablets, capsules, and powders.
6 Make Tea Your Go-To Brew
Want glowing skin and shinier hair? Make tea your go-to brew. When used topically, beneficial compounds in tea work to soothe, smooth, detoxify, and invigorate. Try making one of these tea rinses at home!
Black Tea Rinse for Brunette Hair
This rinse naturally deepens the color of brunette hair while adding shine.
2 cups water
1 Tbs. jojoba oil
6 bags black tea
Bring water to a boil, and remove from heat. Stir in jojoba oil, add tea bags, and let steep at least 1 hour. Transfer to squeeze bottle or spouted container. After shampooing, pour rinse over hair and scalp. Let sit 30 minutes-wrap hair with plastic wrap or plastic shower cap for best results. Rinse thoroughly, and follow with conditioner.
Lemon-Chamomile Lightening Rinse
This rinse can lighten and brighten your hair while soothing your scalp.
2 cups water
6 bags chamomile tea
Juice of 1 lemon
In medium saucepan, bring water to a boil. Remove from heat, add tea bags, and steep at least 1 hour. Remove and discard tea bags, stir in lemon juice, and transfer mixture to squeeze bottle or spouted cup. Pour rinse through shampooed and rinsed hair, and let sit 10 minutes. Rinse thoroughly, and follow with conditioner.
7 Moisturize with Shea Butter
Shea butter is among the most prized beauty ingredients from Africa. It's used to soften and nourish hair and skin, and is a key component of black soap, legendary for its ability to calm skin irritations. Other healing compounds native to Africa include buchu, which reduces inflammation and prevents oxidative damage to skin; baobab oil, which is rich in antioxidants and essential fatty acids that soothe irritated skin; and rooibos, or "red tea," which is a potent antioxidant for skin.
8 Keep it Rosy
Studies have found that rosehip seed oil can soothe complexion and mood. It's ideal for mature and/or extremely dry skin, and is also calming to sensitive skin. Rose can decrease redness because of its natural tonic and astringent effect on the capillaries just below the skin's surface.
9 Get Gorgeous Hair Color-Naturally
Research has linked chemicals found in conventional hair dyes to pancreatic cancer, leukemia, and non-Hodgkin's lymphoma. An ingredient called Para-Phenylenediamine, or PPD, can cause allergic reactions, including rashes, swelling, and painful burning sensations. Beyond the negative health effects, these products can cause hair loss and breakage, not to mention flyaways and dryness. Most health food stores now carry a wide range of natural hair color products, such as Light Mountain, Naturtint, Surya Henna, Herbatint, and Tints of Nature.
10 Make the Switch to a Safer Shaving Cream
Shaving products from health food stores are generally made with 100 percent natural ingredients, which helps ensure a comfortable shave without chemical skin irritants. Look for soothing ingredients, such as organic avocado oil and wheat germ oil to help the razor glide smoothly; witch hazel to soothe irritation; and camphor, menthol, and/or organic eucalyptus to cool and invigorate.
11 Grow Stronger, Fuller Hair
Hormone changes that occur with age are another factor in hair loss. Aging can bring imbalances in androgenic hormones, with elevated dihydrotestosterone (DHT), triggering "male pattern balding" in both men and women. The traditional Chinese herb ho shou wu can block DHT and help prevent hair loss. Gender-specific multinutrient formulas can help balance hormones and nourish hair follicles.
12 Boost Your Radiance with Super Serums
Designed to absorb quickly and penetrate deeply, concentrated serums can supercharge any skin-care regimen. Formulas vary, but most contain ingredients that boost collagen, brighten skin, provide antioxidant protection, and hydrate skin. One of our favorite ingredients is hyaluronic acid. A major component of the body's connective tissues, hyaluronic acid supports skin structure, hydrates skin by trapping water, and acts as a cushioning agent. Applied topically, hyaluronic acid helps smooth and firm skin, and can dramatically improve the appearance of wrinkles.
13 Banish Undereye Circles
Look for eye creams/gels that contain any of the following ingredients:
Horse chestnut: helps improve the appearance of dark circles by thickening the skin and constricting capillaries.
Bearberry: This herbal extract contains arbutin, a compound that suppresses skin pigmentation.
DMAE: In one study, a 3 percent DMAE facial gel applied daily for 16 weeks reduced dark circles and helped firm skin.Vitamin K: Deficiencies may show up as dark circles under the eyes.
14 Pay Lip Service
Lips chronically dry? Be sure to stay adequately hydrated. Water is the best choice. The lips are often the first place you'll see signs of dehydration. Deficiencies in vitamin A, B vitamins including B2 (riboflavin), vitamin C, vitamin E, and iron, as well as essential fatty acids, can cause scaling and cracking of lips.
15 Try Natural Deodorants
Natural deodorants work by controlling bacterial growth with herbs such as tea tree oil, rosemary, lichen, sage, or lemongrass, then masking any remaining odor with pure essential oils. Most also use mineral salts or potassium alum to control odor, and baking soda and cornstarch to absorb moisture.
16 Dry Brush Daily
Use a brush made with natural bristles, and gently but firmly brush your entire body "from the tips of the extremities toward the core," says Pontillo. "Dry brushing helps increase blood circulation and lymphatic flow. This helps the body detoxify on the inside so toxins don't appear on the outside."
17 Soothe Sun Damage
Aloe vera has an immediate cooling and calming effect on the skin, and it forms a protective layer that seals in moisture, preventing dehydration and promoting healing.
18 Bone Up
The mineral silicon is necessary for the formation of collagen and bone. Supplementing with orthosilicic acid (BioSil) or the herb horsetail, which is rich in silica, can help smooth lines and wrinkles and also fight brittle hair and nails.
19 Check Your Thyroid
A thyroid imbalance can result in numerous problems, including hair loss. Optimizing the thyroid with a natural supplement, in tablet or capsule form, improves energy, metabolism, and body temperature, and it also stops hair from falling out.
20 Love Yourself More
Learning to practice self-compassion goes hand in hand with outer beauty. "When you begin to prioritize yourself and recognize that you deserve love and care just as much as everyone else does, it makes all the difference," says Pontillo. "Any love or validation you seek from others will never fill the void-the only way to do that is to first find it within yourself."
Written by betternut-editor for Better Nutrition and legally licensed through the Matcha publisher network. Please direct all licensing questions to legal@getmatcha.com.
---
Share this post
---
---